According to this article from the Better Business Bureau of Western Virginia: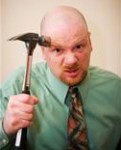 Every year, homeowners research the trustworthiness of roofing contractors with BBB more than 2 million times—more than any other industry. Unfortunately, last year alone, BBB received more than 7,600 complaints about roofers from unsatisfied customers.
Daily Finance reported that in 2011 the BBB reported the two industries receiving the most complaints nationwide: roofers and general contractors.
So how do you know you can trust Windows & Home Renovations Direct?
We're qualified.
Locally owned and operated by Scott and Melissa Woldman, Windows & Home Renovations Direct has been in business since 1994 and has been a BBB accredited business since 2000. A licensed Class A contractor, Windows & Home Renovations Direct is also a qualified System Home Improvement Products Remodeler, and a member of:
Vinyl Siding Institute,
American Architectural Manufacturers Association, and
GuildQuality.
We take customer satisfaction surveys – and post the results.
As a GuildQuality Guildmember, Windows and Home Renovations Direct relies on our customer surveying to help us deliver an exceptional customer experience. Visit our GuildQuality site at www.guildquality.com/cr/Windows-and-Home-Renovations-Direct/RD96208225043CL/ to see current reviews of our work. When you hire us to complete a home project for you, we'll ask you to submit a survey, too!
We back every job with a 100% satisfaction guarantee, and it shows.
When you hire us, you know you're hiring a reputable local contractor with a long history of satisfied customers.
The next time you have a home improvement project – large or small – contact us by phone in Roanoke at (540) 362-1567 or Lynchburg at (434) 528-5910, or use our website form to request a quote.
We'll schedule a time to meet with you at your convenience to see the size and scope of your project, and then provide you with a no-cost, no-obligation quote based on your unique needs and budget.